In Transit with... George Greanias
Posted March 2011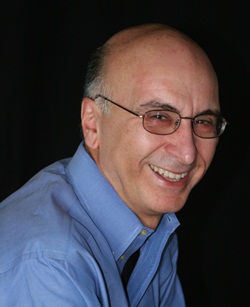 Despite his lack of professional transit experience, Houston's Metropolitan Transit Authority named George Greanias as its permanent president and chief executive last September, after he had served as the acting CEO for four months, replacing the embattled Frank Wilson.
Greanias, 62, wasn't a complete stranger to transit. He had served as a district council member in Houston for six years and as the city's controller for another six. He also ran unsuccessfully for the city's mayoral office in 1997. During his years in public life, he had developed a growing familiarity with the Metropolitan Transit Authority.
When Annise Parker was elected mayor in Houston last year, she named Greanias to head a transition group tasked with looking into the transit agency's structure and finances. His leadership impressed the authority's board chair, who recommended that he be named acting CEO after Wilson was forced out.
In addition to his political background, Greanias brought an impressive resume of accomplishments and experience to the post. He most recently was a management consultant, helping large corporations improve their performance through organizational changes. He has also worked at several Houston law firms and taught at Rice University's graduate business school. Also worthy of mention, Greanias is a playwright, having written a musical spoof of "Hamlet" while attending Rice University and receiving a Rockefeller Foundation grant for a play called "Wilson," which was produced at Houston's Alley Theater in 1974.
Greanias recently spoke with Transit Talent's Steve Hirano, discussing his latest career move with enthusiasm and self-deprecating humor.
Your professional background is remarkably diverse. You've been a management consultant, city councilman, mayoral candidate, lawyer, college professor and playwright. How have those endeavors prepared you for your current engagement?
In many respects, the job I've got now is a culmination of all the different things I've done throughout my professional life. The political education I got as a council member, especially as a district council member, who's committed to worrying about the basic city services, everything from garbage pick-up to traffic signs to traffic through their neighborhoods. That was a good education about how important those basic services, including transit, are to neighborhoods in the community.
Being controller was a great introduction and training in public finance, which obviously for a transit agency is a major issue.
On the private side, with the consulting work I did, in helping to bring change to major corporate organizations, really prepared me for a critical part of my job here - which is to change the culture at Metro to make it much more customer focused and to make it much more transparent and accountable to the community.
It's all part of how my training in the past can be applied here. Even the college teaching I did had some applications to transit, in terms of being exposed to a wide range of ideas and options. And this was totally unexpected, I actually co-wrote a book on how to deal with boards of directors. A big part of my job as CEO is to relate effectively with a board of directors who represent different parts of the community. So, although it was not planned this way, it worked out that here I am at almost 63 years old, I'm able to take pretty much everything I've learned in my various careers, even the playwriting, which is all about what motivates people, to bring to bear in this job.
Although I think your answer to this question might be a little obvious, how do you feel about folks without professional transit experience, like yourself, being selected to lead transit agencies?
From my view, it's just a brilliant idea [laughs]. In point of fact, Metro is blessed with a lot of people who have strong transit experience and knowledge and who are strongly committed to transit. I'm not just talking about the people, for example, who are designing and building our rail system, but it's also the people who run our maintenance facilities and who drive our buses.
I got out for the first time a few weeks ago in a bus simulator and later this week I'm going to do my bus training because we're having a bus roadeo on the weekend and many of our senior managers are going to compete; I have to tell you, until you've driven a bus, it looks real easy when you see one going by, but it's very different from driving a car. Even the folks who are our bus operators and train operators bring a strong measure of professionalism. We did not need another transit professional at the top of the house, as much as we needed somebody who could help the people who are already here deliver what they were capable of delivering but maybe were hindered from doing so in the past.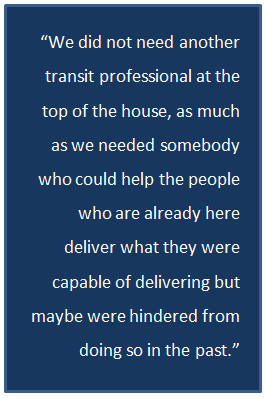 In my consulting practice, we called it discretionary performance. It's the capacity that people possess, but you can't beat it out them, you have to encourage them by creating an environment that makes them want to give it to you; it's in their discretion.
The point is that a non-transit professional who understands organizations and how to bring out the best in them is in many respects what the organization needs at this point in time. That may change down the road. At some point, it may be more appropriate for some other type of CEO to be here.
If you look around at major American corporations, more and more you're finding CEOs who are not necessarily from that industry or that company, but who have the skills to bring out the talent and resources of the organization.
How would you describe your management/leadership style?
I'd like to think that it's collaborative. I'm a huge believer in the collective wisdom of effectively run teams. The most egregious mistakes I've made were made with the least amount of conversation and team involvement. The best decisions I've seen are made with a very engaged team of really good people who are given free rein to work through the issues.
For example, here at Metro there's been a tendency for the more difficult issues to all get taken care of by people at the top of the house. I've been consciously pushing those tasks down two or three levels in the organization and creating task forces of folks in the middle range of management. It gives them a chance to get their teeth into something really substantive and also a chance for them to show what they can do and to get some visibility within the organization and with the board of directors.
I had a couple of junior folks make presentations to board committees, which they would not have been able to do in the past. If you have an organization and you're not using every bit of its intellectual and experiential strength, you're wasting the assets. That's not a good use of your resources.
Several months ago you created a requirement that your senior managers use the Metro system 40 times a month. How is that going?
It's going reasonably well. It could be a challenge depending on your workload and your schedule and so forth, but I think by and large what it's done is made people aware of a couple of things. One, it certainly makes you aware of the benefits and shortcomings of the system. I get a lot of anecdotal reports about really good drivers, for example, who not only drive their route but know their neighborhood and provide customers with really good pointers about where to get off and so forth. By the same token, I also get reports of things that aren't running so well, like buses that are overcrowded.
A couple of months ago I was on the train and I called up our head of service delivery and said, "Look, I'm going to tell you the same thing I tell my auto mechanic: I heard a funny noise in the train." It turned out that a bearing was going bad on one of the trucks.
The other thing, apart from getting information about how our buses and trains are operating, is that it reminds us that when we're not providing a good network of service that's easily accessible, safe and reliable, we have some more work to do. We're not where we need to be in terms of customer service.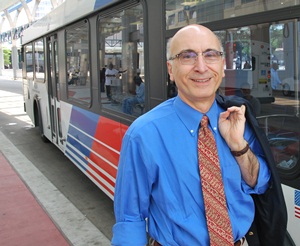 Is it true that you conduct meetings with the participants standing up?
It is.
At all of your meetings?
About 95% of the meetings in my office are conducted at the standing desk. Now, if we have a large crowd and we need to meet in a conference room, we'll be seated. By and large, I stand here during the day and people wander in and out. There are a lot of floating meetings, ad hoc meetings and scheduled meetings, and most of those take place at two standing Pottery Barn kitchen tables with a glass top. It's much harder to fall asleep if you're standing up, unless you're a horse.
So you want to make sure people are paying attention?
Actually, it's my work style. Even before I got here, I had a standing desk for years. I was doing some work for Chevron and they're big on ergonomics. They actually have these desks that can be adjusted for height. You can make them standing, sitting or mid-range. I was really taken with that. Not only does standing move meetings along, it's harder to hide your BlackBerry when you're standing up.
The other thing is that it's healthier. There's a lot of research that suggests that it's good for you to stand more during your work day than most of us do.
What would you say is the biggest complaint that Houston residents have about Metro and how have you addressed that complaint?
The way I got into this position was the mayor [Annise Parker], when she got elected a year and a half ago, asked me to serve as chair of her transition committee on Metro, and we had five subcommittees of the task force looking at different aspects of the agency. All of them, though, no matter what their focus was, hit the same theme: Metro's relations with the community were very frayed. People felt that Metro did not listen, that Metro did not tell the truth, that Metro wouldn't make commitments and that when Metro did make a commitment, you couldn't really rely on it.
So, one of our priorities is to become a trusted community partner. At the end of the day, you can't provide the kind of service to the community and you can't build the kind of support you need for the infrastructure that you need to build if you're not trusted by your community. A lot of our work over the last 10 or 11 months has been reaching out to what I call our partners within our service area. For example, the Texas Medical Center, with its 75,000 employees, about 28% of whom are riding a Metro service to work. Or the downtown business district, where 180,000 employees work and about 40% of those folks are riding Metro. We need to partner with them to make sure that our service is as absolutely as good as it can be. By the same token, we serve most of Harris County, but the Galveston-Houston region is probably 10 counties. So we need to also be partners with the other counties and other government agencies if we're going to have a transit system for the region.
So I think the single biggest community concern has been, "Can we trust Metro as the agency that will really deliver the transit solution that the region needs." If you look at the most recent survey work, there's more folks that favor expenditures on bus and rail than on streets and roads as a mobility solution. Our strategic challenge at Metro is to say, "OK, if you all believe that transit is essential to the future of the community, we need to get you to believe that Metro is the agency that can deliver that solution." That's the gap we're trying to close.
What's been your biggest challenge so far at Metro?
Patience. Consistency. Sticking with it.
I've warned the board and certainly told the 3,500 folks that work here that changing Metro's situation, changing the organizational culture, taking care of the various issues that existed when I got here and creating the kind of trust that I was just talking about within the community is not an overnight process. If you think about it, a lot of government folks come in and announce they're going to make some big changes and they do some dramatic stuff, but it all looks the same a year later. That's usually because people declare victory really early because it's very hard to make change happen that will stick. It takes a lot of time. I think that you understand that from the get-go and be firmly committed to hang in there until the change not only takes place, but is solid enough that it's going to last after you leave. That takes time, patience and consistency. And you have to avoid getting discouraged. It's one thing to change the organization, but you also have to change the community's attitude. And the community has some fairly ingrained attitudes about how they react to Metro. It's going to take time for them to realize that it really is a different organization.
What has surprised you the most about running a transit system?
I've been in public life for 14 years. I've been fairly knowledgeable about Metro back when I was doing that. I'm not sure that anything has surprised me other than the workload. Before I did this, I was a partner in a consulting firm and traveling all the time, so my big thought was that at least I'll be at home in Houston and I'll be able to go to movies or go to a museum once in a while, and that hasn't happened.
The other thing that I will say that has really struck me is the level of dedication and professionalism of the people within Metro. They really are committed to transit, and they're really committed to doing it right. Intuitively, I sorta knew that, but I think it got masked by some of the senior management issues that muddied the waters. Now that we've made changes there, I think you're beginning to see that dedication really shine through, a lot more than it was allowed to in the past. To me, that's personally satisfying.
What do you like to do in your spare time?
Explain to me the concept of spare time. I love to read. I'm relearning to play squash and racquetball, two sports I really enjoy. I think it's going to be important if I'm going to be here for the long haul that I do find time to do some of those things because you need some time away to let the idea percolate. If you're avalanched with data and you don't walk away periodically to let it sort through, you're probably not going to be receptive in responding to the data. You need to be thinking and you can't do that when you're in the middle of a firefight every day, so, although I joke about it, I think it's important to pull away periodically and get mentally and physically refreshed.