Transit Talent Q&A:
L.A. MTA's Art Leahy
Posted November 2009
You can go home again.
Art Leahy has done it. He started as a bus operator in Los Angeles in 1971, rose through the ranks to become the agency's chief of operations, and then grabbed an opportunity to become a transit CEO by moving to Minneapolis to take over Metro Transit in 1997.
In 2001, after four years in the Twin Cities, Leahy headed back to Southern California to become the CEO at Orange County Transportation Authority (OCTA). He stayed at the helm for eight years, until Roger Snoble retired from the top post at Los Angeles County Metropolitan Transportation Authority (MTA) earlier this year.
Last April, after a 13-year absence from MTA, Leahy came home. He returned to the place where his transit career began, excited about the challenge. The biggest initial adjustment was getting used to a daily commute that lengthened from one mile to about 30 miles. Now he rides the train to work and says it's a great experience.
Leahy recently spoke with Transit Talent's Steve Hirano about the first six months or so of his transition from OCTA to MTA.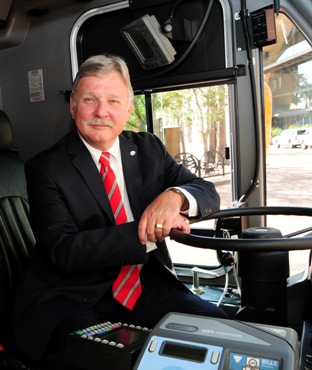 How did it feel to return to MTA after a 13-year absence?
It felt strange at first. It's a different organization than it was; there are a lot of different people. I guess I was lucky in that in my eight years at OCTA I had a lot of interaction with MTA and their issues, so it wasn't a situation that I was unfamiliar with.
But it's great to be back. It's a wonderful challenge, which is why I took this job. I was very happy in Orange County, but I couldn't turn down one of the high-impact jobs in the state of California. Besides, I love L.A. It's a chance to contribute to the future growth and shape of the city where I grew up.
What's been the biggest challenge so far?
The first year at an organization is really tough. You've got to get the lay of the land . . . the politics and the personalities. It's a good idea to get to know the various mayors, even the ones who are not on the board. And not just the politicians, but the staff, too. You have to learn who you can trust, who's really energized, who's not energized. That's my biggest challenge right now.
How long will it take for you to reach a comfort zone?
I'll probably never get there. I'm very much a taskmaster, for myself and others. It took me about a year to feel comfortable in Orange County, but even then I would never want to say that I stopped learning.
What have been the most positive aspects so far?
I'm very pleased that we got a unanimous vote from the board of director on the federal New Starts package. We also got a unanimous vote on the long-range transportation plan. That was a lot of work.
The recent opening of the Eastside line [a 6-mile light rail extension of the Gold Line] was another positive. It was very gratifying to see how happy and excited the people in East L.A. are about the rail line. To see people from downtown L.A. riding the train to East L.A. to shop or have lunch or just to socialize was also very gratifying.
What's the biggest difference in the regions covered by OCTA and Metro?
Orange County is small enough that there's more of a sense of community. Los Angeles is so big and the regions are so far apart that it's more difficult to have that shared sense of community.
Unlike most all of the major transit properties, MTA seems to be avoiding layoffs and service reductions. How has that been accomplished?
This year, we used Measure R funds [accrued from a half-cent sales tax increase approved by county voters] to help keep the system whole. However, in the coming year, we face some very large problems. Farebox revenue is down about 10%. The state zeroed out all transit assistance. So, we're going to have a very hard time with next year's budget. It's going to be painful for all of us. We are just now beginning a dialogue with the board of directors. We have some big financial challenges.
You're going to be losing your chief operating officer, Carolyn Flowers, and your chief planning officer, Carol Inge, in the near future. What kind of impact do you think that will have?
Carolyn and Carol are good people. I like both of them and had hoped they would stay longer. But Carol is retiring, and Carolyn had her sights set on being a CEO [she recently accepted the position of CEO at Charlotte Area Transit System]. Having just changed organizations myself, I understand the attraction of wanting to take on a new challenge.
Having said that, we're now starting the recruitment for a chief operating officer and a chief planning officer. We're going to go out and hire some stars. I want the MTA to be the best transportation organization in the country.
Are you looking internally to fill these positions?
Of course, we'll invite current employees to apply and will consider them, but at the same time, I think I owe it to the MTA to try to get the very best people. I look at USC and what a great job Pete Carroll does recruiting for his football team. That's what I want to do. I want to make MTA the USC of transportation.
Now that you've come full circle at Metro - starting as a bus operator and now serving as CEO - do you think you'll want to end your career at MTA?
I'm not thinking about retirement yet. I'm 60, and would be very pleased to work at the MTA for 5 or 10 years. There's plenty of work to be done. If it works out that way, this is probably the last major position I would hold. But you never know.
Your current contract is for four years?
Actually, it covers a five-year period, but I serve at the will of the board. They can do as they please. And, by the way, that's the way it should be. The anxiety of having to prove myself to the board is a great motivator.