More than half of respondents to transit salary survey report no change in salary in past year.
According to Transit Talent's 2011 Transit Salary Survey, employees of North American transit agencies continue to see little change in their compensation packages, with more than half (55%) reporting no change in their base salaries in the past 12 months.
Of those who did report a change, they were nearly as likely to have absorbed a salary cut as an increase. About 22% of respondents said their salaries had been cut in the past year, while 25% said they had received an increase. Respondents were asked not to include furlough days in their calculations, but the high percentage of reported salary cuts suggests that they may not have heeded the instruction. Also, it appears that some respondents may have reported salary cuts based on increased pension contributions and higher healthcare premiums rather than reductions in base pay.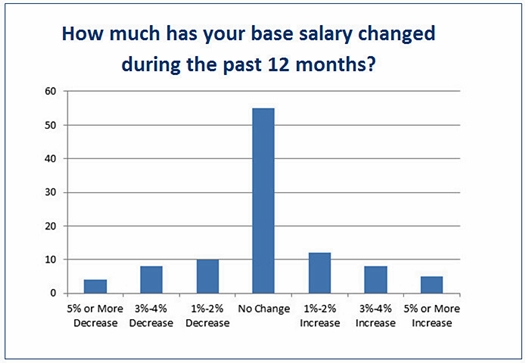 The 2011 survey gathered salary data from more than 1,400 professionals employed by transit agencies in the U.S. and Canada. The survey was e-mailed to approximately 6,000 potential respondents in December 2011 and early January 2012.
The salary data covers nearly 2 dozen departments/disciplines, such as finance, planning, operations and procurement. Because of the differing job duties and titles at transit agencies, respondents selected job categories, titles and brief job descriptions that most closely matched their own. Very rarely do the respondents' titles and descriptions perfectly match the offered titles and descriptions, so care should be taken in drawing strong conclusions from this salary data.
The survey, of course, could not be completed without input from the industry. I'd like to thank everyone who took the time to fill out the survey. Your efforts are very much appreciated. Questions or comments about this survey can be e-mailed to Steve Hirano at steve.hirano@TransitTalent.com
If you're interested in looking at past survey results, here are the links:
2011 Survey Results
You can scroll down to view all the department results in alphabetical order or you can click on the links below to see the results of a specific department.
Administrative Support - Customer Service - Engineering - Executive Management - Fare Collection - Finance - Government Relations - Human Resources - Information Technology - Legal Services - Maintenance - Marketing and Communications - Media Relations - Operations - Paratransit - Planning - Procurement - Project Management - Risk Management - Safety - Scheduling - Security/Police - Training and Development