Transit's silver lining: No shortage of bus operator applicants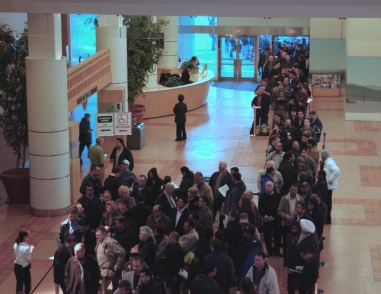 How do you know when the unemployment situation is getting really dire? When transit agencies stop accepting applications for bus driver positions.
As folks who work in the transit industry know, recruiting bus operators can be a tough proposition during normal times. Although bus drivers who have several years of tenure can earn a decent income, the job can be incredibly demanding, especially in the area of customer service.
With so many people out of work, however, a job behind the wheel of a transit bus doesn't seem like such a bad thing, as the folks at Coast Mountain Bus Co. in greater Vancouver, British Columbia, have discovered. At a recent three-day job fair, they collected 1,500 applications, about three times more than normal.
The line to file an application stretched several hundred feet, and some weary jobseekers near the end of the queue were told to return the following day rather than wait in vain for a chance to be processed before closing time.
"People from all walks of life were standing in line," said Coast Mountain spokesman Derek Zabel. "Some people were concerned about layoffs in their current position; some were already laid off and some were looking to get into a company and seeing transit as an area that will continue to grow and be around even in a bad economy."
In addition to the 1,500 applications it collected during the job fair in early February, Coast Mountain took in 1,800 transit operator applications in January. "It was the largest amount of applications we have ever received in a month," Zabel said, adding that the company has stopped accepting driver applications for the time being.
Here in the U.S., things are not much different.
Julia Best, an HR specialist at Southwest Ohio Regional Transit Authority in Cincinnati, said she's seen a nearly 300% increase in applications for bus operator positions, which offer a starting pay of $13.19 an hour. They are still accepting applications, however.
In Tampa, Fla., Hillsborough Area Regional Transit (HART) has not been accepting applications for bus drivers for a few months now. Earlier this month, it did post a listing for bus operators on its website. In one week, it generated 92 applications. "All for four openings," said Walt Blichasz, HART's HR coordinator. "Overall, our application intake has been extreme, for any job posted."
And in California, Shirley Cruser of the Santa Cruz Metropolitan Transit District said she's received three times as many applications as normal during bus operator recruitments over the past several months and is not listing the opening on its website.
Unfortunately, this silver lining has a dark cloud attached to it. Blichasz said he's concerned that some newly hired bus operators will quit their jobs once the economy recovers and more suitable positions become available. In the meantime, he said, HART will focus on hiring the best qualified candidates, especially those with exceptional customer service skills.
"We can and will train anyone to drive our vehicles," Blichasz said. "Without outstanding customer service skills, they could be the best driver in the world, but we will take a second look at them in lieu of someone who brings more customer service skills to the job."